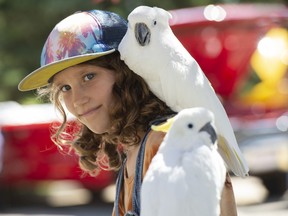 Vintage vehicles, historical police cars and racing cars were on display in south Edmonton Saturday in an effort to raise money for Alberta Special Olympics.
Const. Amanda Trenchard with the Edmonton Police Service estimated 70 to 80 cars were in the Servus Credit Union parking lot on Karl Clark Road around 11:30 a.m. She was volunteering at the Law Enforcement Torch Run's (LETR) inaugural "Ignition for Inclusion" event from 11 a.m. to 4 p.m. on Saturday.
The event was personal for Trenchard who has been a coach with Special Olympics for more than 25 years.
"It's to create awareness because often when people see people with a disability they see the disability, they don't see the ability and our athletes have amazing abilities," she said.
"By raising these funds we then allow for them to showcase those in sport, but it's not just sport, they get confidence within sport but then some of them public speak, some of them are on athlete leadership groups, they often get enough confidence that they go out in the world and get a job."
The car show was open to anyone who wanted to showcase their vehicle — each driver paying a $20 entry fee to support Special Olympics. The event was free for people to come check out the cars, however, donations were being accepted. Proceeds from a $5 barbecue and a dunk tank were also in support of the fundraiser.
Trenchard coaches soccer and snowshoeing. She said one athlete she coaches wanted to start snowshoeing about seven years ago and when they started running, she couldn't even run fro 12 minutes. Now, she runs half marathons and was supposed to compete in the national games this year in Russia before they were cancelled.
She added it's important for athletes to show off their abilities and the 2023 provincial winter games in Sherwood Park next year is a good opportunity for them to do that.
"We'll have athletes from the entire province coming to compete in different sports. So, it's a great time for people to come out and see these amazing athletes," said Trenchard.
Neil Ivan, an Alberta Special Olympics athlete diagnosed with epilepsy, was at the car show on Saturday and said the Law Enforcement Torch Run fundraisers mean a lot to the community.
"It means quite a bit. It means that all the athletes will get a chance, that are going to provincials, to get funding for their sports and stuff. They'll help send athletes to provincials and a bunch of other stuff," said Ivan.
"You get to see a bunch of your old friends that you haven't seen in a while and you end up meeting a lot of people through Special Olympics."
Ivan plays floor hockey, five-pin bowling and bocce ball with the Special Olympics and has been involved for about 37 years. He said he will be playing goalie in floor hockey at the 2023 provincial winter games in Sherwood Park.
Ivan said he really likes cars and enjoyed the vehicles on display on Saturday, which included Ferraris, Camaros, Corvettes, a tall gold and brown GMC Sierra truck and more.
In 2021, $320,000 was raised across Alberta by the Law Enforcement Torch Run in support of local Special Olympics programs.
Edmonton Journal Headline News
Sign up to receive daily headline news from the Edmonton Journal, a division of Postmedia Network Inc.
By clicking on the sign up button you consent to receive the above newsletter from Postmedia Network Inc. You may unsubscribe any time by clicking on the unsubscribe link at the bottom of our emails. Postmedia Network Inc. | 365 Bloor Street East, Toronto, Ontario, M4W 3L4 | 416-383-2300