Authors:
Israel Olorunnisola
April 15, 2022 5:37 PM
Winner of three Academy Awards including Best Picture, The Godfather was nominated for an additional eight Oscars.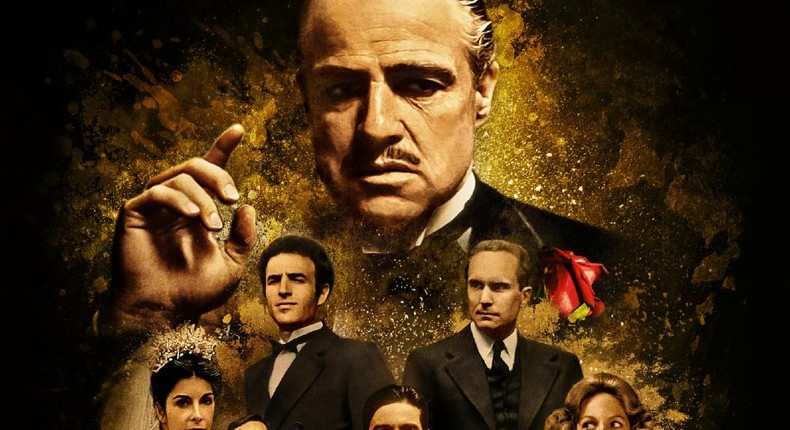 The brainchild of celebrated author Mario Puzo, the film is considered the crowning achievement of Francis Ford Coppola's directing career. With intriguing depth, it provides audiences with a glimpse into the notorious underworld of warring New York crime families. As a result, The Godfather transformed a number of relatively unknown actors into Hollywood legends, among them being James Caan, Al Pacino, and Robert Duvall (all three of whom were nominated for Best Supporting Actor). In addition, Marlon Brando turns in, arguably, the most memorable performance of his career.
The film opens as Don Vito Corleone (Marlon Brando) hosts his daughter's wedding, where he actively entertains his friends and business associates. Vitos favourite son Michael (Al Pacino) has come home from the war (World War II), and he's determined to do something different with his life, and his ambitious plans don't include joining the family business. An idealist at heart, the young Michael seduces his girlfriend Kay (Diane Keaton) with inspiring tales of the fine and upstanding things he will do with his life. Through the eyes of Michael, the audience learns of the family's various business methods and the hierarchy of its system. Vito's eldest son Sonny (James Caan) is the heir apparent to his father's empire. Middle son Fredo (John Cazale) performs his part in the business, but few consider him a possible successor. Providing legal counsel to the family is Tom Hagen (Robert Duvall), a long-time friend of the family who Michael treats as a brother.
Life is good for the Corleone family until the day Vito is approached by an opportunistic newcomer named Virgil The Turk Sollozzo (Al Lettieri), an ambitious leader who aspires to become the number one distributor of illegal narcotics in New York. He asks for Don's blessing so he can expand his operations. But Vito sees a big difference between the traditional mafia activities of gambling and prostitution and the less-than-noble profession of selling drugs in schoolyards and family neighborhoods. Don's preference for placing family above all else creates a direct conflict with the changing landscape of his business world.
When competing crime families are more accommodating to Sollozzo's business proposal, the enterprise sparks a deadly conflict between the crime families which quickly escalates into an all-out war. Despite Vitos attempts to put an end to the conflict in its early stages, his beloved firstborn, Sonny, becomes the target of gangland assassination. When an attempt is made on Vitos life, Michael is drawn into the family business despite his reservations, and the overriding theme of family first comes to dominate his life in much the same way it dominated that of his father.
A dramatic story of family and change, youthful idealism and the pragmatism of adulthood, The Godfather is the greatest mafia film ever produced, and perhaps the best drama in all of cinema history. Al Pacino would soon follow up his masterful performance with The Godfather II, and countless other films in the decades since, forever cementing his place among the immortals in Hollywood. As such, The Godfather is a film all movie lovers should see at least. Widely heralded as one of the best-written films in existence, it's a definite must-see for any serious cinema aficionado.
JOIN OUR PULSE COMMUNITY!
Our newsletter gives you access to a curated selection of the most important stories daily.
Welcome to the Pulse Community! We will now be sending you a daily newsletter on news, entertainment and more. Also join us across all of our other channels – we love to be connected!
Unblock notifications in browser settings.