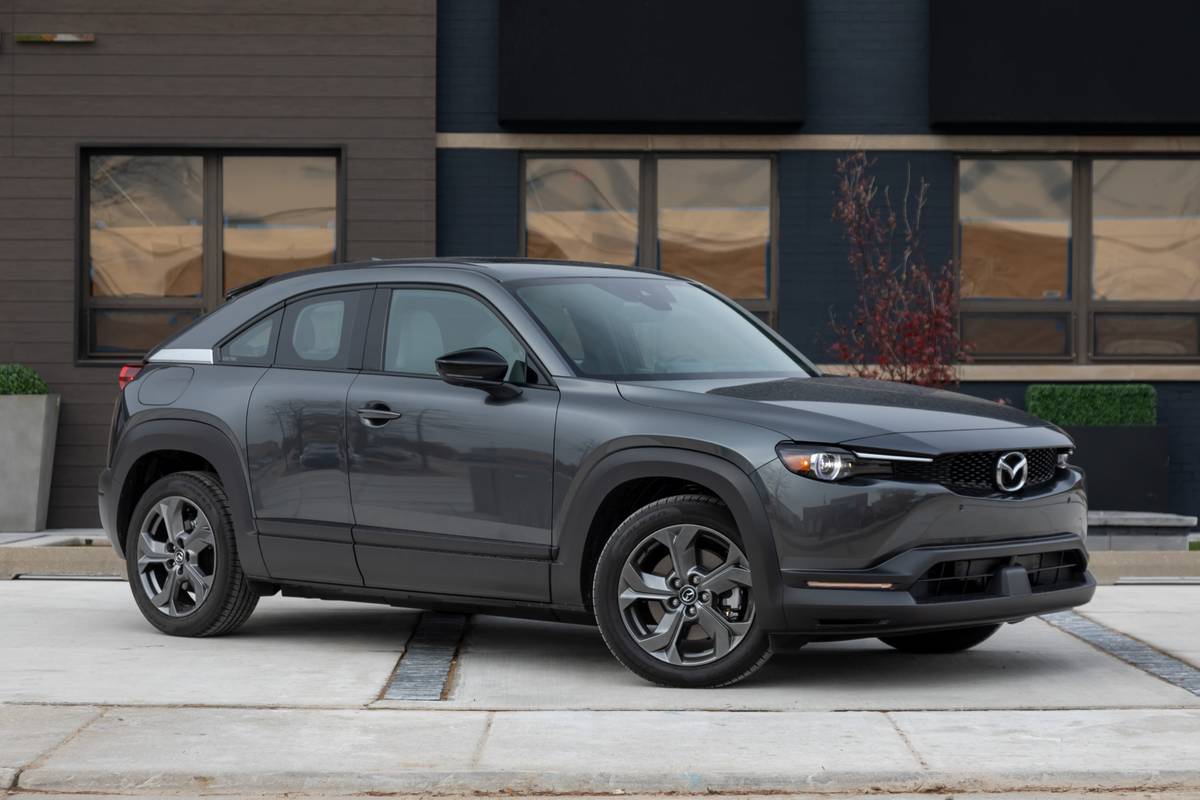 2022 Mazda MX-30 | Cars.com photo by Christian Lantry
By Brian Normile
November 26, 2021
The 2022 Mazda MX-30 is the Japanese automaker's first electric vehicle, and the small SUV is certainly … quirky. It's worth noting Mazda plans to sell the all-electric MX-30 exclusively in California, and reportedly only 560 units are expected to be sold for the 2022 model year. Given the limited availability, it feels very much like a "compliance car" designed to meet California's strict requirements for automakers to sell zero-emissions vehicles. Mazda claims future versions — should they be built — could include a gasoline-powered range extender or a traditional hybrid powertrain.
We recently got a chance to drive an MX-30 around Chicago and, before that, at the Midwest Automotive Media Association's Fall Rally in Elkhart Lake, Wisc. What did we think of Mazda's first EV?
Related: 2022 Mazda MX-30 Will Go on Sale in California This Fall for $34,645 With 100 Miles of Range
Our opinions are mixed, to say the least. I'll start with my thoughts. First: The MX-30's maximum range of 100 miles comes with built-in range anxiety, even though I'm aware I probably don't drive 100 miles in an average day and have access to home charging. Mazda explicitly states the MX-30 is meant as a second car or a vehicle exclusively for commuting, but that little range, even in a gas-powered car, makes me anxious.
My other complaints are more practical. For starters, visibility is hampered considerably by the large B-pillars, which serve to create sizable blind spots. Second, access to the rear seats is difficult for adults; you have to open the front door to open the rear half-door (did Mazda have leftover RX-8 doors?); the subsequent opening doesn't really fit 6-foot-1 adults like me. Third, Mazda's multimedia display can only be controlled by a rotary dial in the center console; there's no touchscreen available. Using Apple CarPlay with a dial controller is just aggravating. I also wish the MX-30 had true one-pedal driving; instead, there are adjustable levels of regenerative braking, with the most aggressive one able to almost bring the car to a complete stop. With that setting, suddenly hitting the brakes can result in incredibly abrupt stops.
Complaints aside, I did enjoy a few aspects of the MX-30. For starters, the interior is a very visually and tactilely pleasing design, with unique and quality materials like cork accents and a tweedlike seat fabric. Mazda also eschewed the more common Jetsons-esque spaceship noises to provide some sort of auditory sensation to indicate the car is accelerating; instead, it mimics a combustion engine. It's strange, and not perfect, but I found it preferable. My last point of praise is something I've loved about every Mazda I've ever driven: The MX-30's steering feel is excellent. I found it communicative, direct and precise.
I wasn't the only Cars.com editor to drive the MX-30, though, so let's get a few more opinions:
2022 Mazda MX-30 | Cars.com photo by Christian Lantry
Joe Wiesenfelder, Executive Editor
There's at least one good thing about the MX-30, and that's how it looks. We don't dwell on such things, but it's more important with EVs. I do believe manufacturers have to distinguish them somewhat, but unfortunately that often leads to bizarre designs. Mazda did just enough to make the MX-30 distinctive without going overboard.
Beyond that, I don't have much positive to say. I'm the first to point out that motorists don't need as much range as they think, but 100 miles is really pushing it by today's standards, and if range is this modest, it must come with a low price or some other big upside. The price ($34,645 with destination fee, before any EV incentives) isn't a knockout. Look at the Mini Cooper SE Hardtop, which has 114 miles of range for 2022 and is more fun to drive, priced thousands lower ($30,750).
The driving experience didn't do much for me, apart from the ride seeming pretty good — a nut that seems surprisingly difficult for affordable-EV makers to crack. My suspicion was that the short range was due to being performance-oriented, but it plainly wasn't. I've been in many EVs quicker than this, including the Volkswagen ID.4 AWD the same day. I had more fun in the Mini. The best thing I can say about the MX-30 is it isn't stingy with regenerative braking levels; there are five.
I'm not sure where to land on the rear-hinged rear doors. It's not that I like them, but it's a perspective thing. If the MX-30 were a two-door, you might beg for access doors even if they do require the front ones to open first. There's no question it couldn't support full rear doors, so you have to take it for what they're worth.
Joe Bruzek, Managing Editor
If it wasn't for the MX-30's range and charge speed deficiency (you know, little things), I think it might be one of the more compelling affordable EV options because of how well it drives and how interesting it is with unique interior styling, materials and textures.
Like any other Mazda that has refined dynamics and responsive handling, the MX-30 felt natural driving spiritedly through the twisty, hilly roads near Elkhart Lake, with precise steering and natural braking feel. On the downside, a larger battery for more range could add weight and expense, which would likely alter the MX-30's existing dynamics and affordability, so the MX-30 remains a perplexing offering with little appeal outside of warm states with an abundance of public chargers.
2022 Mazda MX-30 | Cars.com photo by Christian Lantry
Mike Hanley, Senior Research Editor
With a few important changes, the all-new Mazda MX-30 could have been a compelling EV. Instead, it's a quirky niche offering that strangely clings to some characteristics of internal-combustion vehicles.
The MX-30 is quick enough and offers very good ride quality that's firm but not harsh. It rides as well as the ID.4 — which is good in its own right — and maybe a little better. The cabin is also quiet on the highway.
It has the makings of a satisfying small SUV, with decent cargo space behind the rear seats. Those rear seats, however, are tight for adult passengers who won't want to spend much time back there. If Mazda had made the MX-30 slightly larger and given it real rear doors instead of the rear-hinged ones it has, it could have been an electric alternative to the automaker's CX-30 subcompact SUV. Besides making it easier to access the backseat, with traditional rear doors, the MX-30 wouldn't have the wide, visibility-limiting B-pillars it does currently.
A little more range wouldn't hurt, either. While its EPA-estimated 100 miles of range is adequate if you're able to charge every night, it complicates using the MX-30 for longer trips. On Level 2 home charging, it took 3 hours, 22 minutes to charge the MX-30's battery pack from 35% to 100%, which added 22.51 kilowatt-hours of energy; the MX-30 charges at a maximum 6.6-kilowatt charge rate and has a 35.5-kWh capacity. The charging time was within a few minutes of the predicted time shown in the instrument panel at the start of the charging session.
Mazda has oddly retained some conventional-vehicle cues, starting with the MX-30's piped-in soundtrack that's reminiscent of an accelerating gas engine. Mazda calls this its new EV sound, but I question whether this'll appeal to EV buyers. The MX-30's battery temperature and state of charge gauges also look a lot like traditional engine temperature and fuel gauges, respectively.
Other aspects of the interior are unique, like the cork trim on the center console and the fabric seat upholstery. Not all of the cabin materials feel great — the upper door trim has a grittiness to it — but the design is distinctive, akin to a concept car.
Jennifer Geiger, News Editor
The MX-30 is weird — but not all bad. The creative use of cork as a trim material was different and added to an already sharp-looking cabin. I also thought it was engaging to drive — its quickness and maneuverability skills make it at home in the city.
However, so much about this car is awkward, from its archaic range and manufactured engine noises to its infuriating controls and clumsy rear door setup. It was tough for me to get used to the knob controller for the multimedia system, and I never really felt comfortable using it while driving — it pulls too much focus from the road. Also, accessing the backseat was a constant struggle. I installed a booster back there; it was tough getting it through the opening, and then getting the passenger in and out was another trial. When did regular doors become uncool?
Patrick Masterson, Chief Copy Editor
The interior felt both unfinished (though maybe that was just me subconsciously registering the cork as exposed wood) and a bit too boxy overall, particularly the massive center console. And though interesting as a marketplace alternative, I also question if it was worth the engineers' trouble to make the miniature doors when you can't open them from the outside (nor open them from inside unless the front doors are already open, for that matter); why not just have a two-door setup instead? Seems simpler and more cost-effective.
After driving a few other EVs over the course of the rally, my only standout driving impression is that, for what it is, this thing is slow. Even more so than the unusual door setup, what I recall best is the acceleration from a stop, which nullified any positives I might have had to say about maneuverability. It was less noticeable at speed, but for a car with instant torque available, mashing the accelerator pedal offered very little in return. I'm glad to see Mazda trying to get into the EV game, of course, but it's probably better this is relegated to California — though I'm not even sure Californians will love it given some of their topography.
More From Cars.com:
Is the 2022 Mazda MX-30 worth your consideration for your next car? As a primary vehicle, probably not. Even with Mazda's generous offer of longer-range vehicles, the MX-30 is best used as what Mazda meant it to be: a commuter car for buyers who have access to home charging (and possibly charging at work, too, to better alleviate range anxiety).
The MX-30 is quirky, fun, aggravating and very much a Mazda, for better and worse. It's an interesting first EV effort, but hopefully Mazda can learn from what does and doesn't work with the MX-30 and apply it to future — and more traditional — electrified vehicles.
Related Video:
Cars.com's Editorial department is your source for automotive news and reviews. In line with Cars.com's long-standing ethics policy, editors and reviewers don't accept gifts or free trips from automakers. The Editorial department is independent of Cars.com's advertising, sales and sponsored content departments.